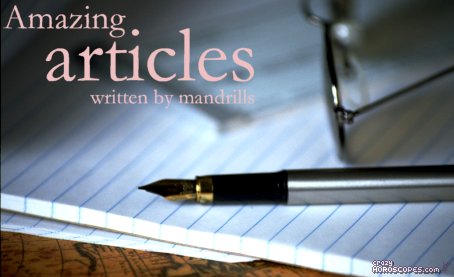 OK people heres a bunch of articles I wrote (and some that I didn't). These articles address issues which will dazzle you and maybe even inspire you to remove your Uncle's eyeballs with a shoe horn and fill the sockets with dung. Some of these articles are actually about astrology, but don't let that put you off.
Articles by: Goblin Prince
Goblin Prince is the mysterious British person who is the founder and owner of Crazy Horoscopes.
Rumour has it he glows in the dark! All articles below, written by Goblin Prince, are exclusive to Crazy Horoscopes.
6th Feb 2007 - Do you seek revenge on those who cross your path? Do you burn with jealous envy at other girls? Or do you just let go and get on with your life? Take this quiz and find out!
22nd Mar 2005 - How lady-like are you? Take this detailed quiz and find out just how good your etiquette and manners really are. CAUTION: Revolting content, could make you feel sick!
2nd Feb 2005 - An article explaining how I deal with unwanted, annoying spam emails. This is the last time I write about this subject. WARNING: Contains naughty words!
15th Jan 2005 - All about the ever-popular 'Nigerian Email Scam' and how I dealt with it. WARNING: Contains a few naughty words!
2nd Jan 2005 - Lots of amazing facts from around the world, none of which are true.
Articles by: Terry Nazon
Terry Nazon is a professional celebrity astrologer, and psychic to the stars. She has been voted one of the top 10 astrologers and psychics in the USA. All articles below, written by Terry Nazon, are exclusive to Crazy Horoscopes.
3rd Dec 2006 - What does the year 2007 hold for you? Over all, we can all expect significant changes in our lives but, what about our chances for finding bliss in our relationships?
28th Nov 2006 - Itís getting closer to Christmas and Hanukah and if you still havenít found the perfect gifts for the special people in your life hereís some little suggestions...
23rd Nov 2006 - The Lucky planet Jupiter enters its own sign Sagittarius in November. A new 12 year cycle is about to begin. How will it affect your life?
29th Mar 2006 - Your astrological guide to the lunar eclipse on the 29th of March 2006
27th Jan 2006 - Valentines Day guide to what your lover really has in mind for the evening. This advice could save your relationship!